The Grapevine, at Trinity Worship Center in Burlington, North Carolina, is a place that's been especially created for great food, great fellowship as well as a delicious cup of coffee.  
A few weeks ago, my brother-in-law Keith, who is on staff at TWC, contacted me asking for ideas for this space. The church was wanting a marketplace theme and already had the idea for an awning above the serving window.
While thinking on the marketplace theme, these images came to mind…cobblestones, bricks, awnings, wrought iron…vibrant colors in the form of flowers, vegetables, hanging plants…and plenty of people!
Due to the fact that The Grapevine is a multi-purpose space with tables and chairs being moved on a weekly basis to accommodate various activities, multiple accessories were not a viable option. So to begin creating an atmosphere of a marketplace we began with the best decorating tool out there…paint!  Using paint to turn plain concrete blocks into stone and square support columns into brick.

The color pallet.
l-r Sherwin Williams Keystone Gray 7504, Macadamia 6142,Artisan Tan 7540, Kaffee 6104, Wild Currant 7583 and Sommelier 7595. I don't know the name of the existing wall color but it is close to SW Hopsack 6109.
The top four colors were chosen as the pallet for the stone. Staying within the shape and pattern of the concrete wall, I began to paint. There's really not a formula for this look except to remember to keep it random. Continuing to vary the colors and keeping the whole wall in mind as you paint.  
My paint tray was a cardboard box that 24 cans of soda came in. I covered it with a plastic trash bag and poured in my four colors. The cardboard box keeps the paints level (unlike a regular paint tray) but it will eventually end up looking like the bag on the right. (Kind of like a bowl of vanilla ice cream mixed with chocolate and caramel syrup.)
Using a 3″ wide flat paint brush, each block is painted a different mix of the four colors. Brown & gray, tan & cream, gray & cream, tan & brown…etc. As you paint, your paintbrush will become mottled with different variations of the colors you're using. This just adds to the variety of the "stone" you're creating. The "grout" is the existing paint color.
The stone wall measures 10′ high x 47′ wide and took 11 hours to paint.
A possible future addition to this wall would be adding clusters of brick to the stone to give the appearance the stone had been repaired and replaced over time with bricks.
So if you live in the Burlington, North Carolina area and are looking for a church home, go by and visit Trinity Worship Center. Wonderful people, wonderful worship.
Where would you use a paint technique like this? An outbuilding? A Patio? A exterior wall? A Pool house? Any ideas?
SHARING WITH: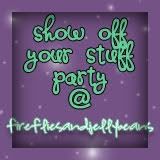 The Shabby Creek Cottage Transformation Thursday