A few weeks ago, I shared with you about that wonderful shop in Gibsonville, North Carolina called The Mill. One of the featured artists at The Mill is Interior Designer Lori Gray.
I loved her immediately! She was so friendly and down to earth. I wanted to sit and pick her brain all day long! When I met her she was at the store working on several new projects. She was dressed to work in a t-shirt and shorts, ball cap and wonderful old cowboy boots! (Safer on the toes she explained!) And she wasn't the least bit hestitant when I asked to take her picture. Love that! 
Lori, who I could describe as a beautiful ball of constant energy, describes her style as "Urban Eclectic with a touch of Rust". Lori has worked as a designer for builder Show Homes in the Greensboro, NC area as well as designing private homes. She has a gift for using old, rustic, antique and vintage pieces in creative and new ways in the homes she helps design.    
"Camp Whoopsie Daisy" Don't you just love that name!
Lori told me she would much rather work within a limited budget because it "fuels my creative drive". Isn't that so true! Sometimes, the tighter the budget the more creative we become.
All the pieces show here are part of a collection inspired by vintage Airstream trailers.
Lori loves to create. She recalled one of her earliest memories, growing up the oldest of seven, when around the age of 2 or 3, her mother (an artist herself) gave Lori a pair of blunt sissors, fabric scraps and glue. The creative spark was ignited!
When I asked Lori about her own home's style she started laughing and told me she loves 50′s kitsch, chalk art or chalkware from the 30′s & 40′s (the tackier the better!)…basically "anything that makes me laugh"! She went on to explain, with a grin, that a wonderful sofa, covered with a multitude of tacky satin pillows, would be considered "good tacky"! Keep in mind, there'
s a difference! 
A favorite piece in her own home is a crusty, 200 year old, green dog house that sits on top of the fridge in her kitchen. She said it came from England and she just wouldn't part with it!
Lori has three grown children. Even though I'm sure they love her style now, she admits they didn't like it while growing up. Lori says she's never sold out to what she loves. "I like what I like."
One of Lori's partners in crime, so to speak, is Larry Hagerman, better know as "Tex". Tex was quite a character! I loved talking to him as well. They let me wander all around their workshop showing me some of the new pieces they were working on for The Mill.  
Lori says she finds inspiration all around her and loves working with other craftsmen and photographers to create her art. Her bucket of "finds" includes anything from bottle caps to old rusty pieces she may have picked up in the parking lot! You never know when one of these beauties will be the perfect finishing touch to a new piece of art! I'm sure this is just a small sampling of what she has collected.
Below is a set of three wooden jars/urns made and sold at The Mill. Lori created the originals about 15 years ago and has never sold them. But she's happy to create replicas for her clients. Notice the distinct difference between the ones shown below and the rustic turquoise ones still being worked on in the shop photo above.
I thought it would be fitting to end this post with one of Lori's mottos…
"Crust and Rust are a Must!"
SHARING WITH: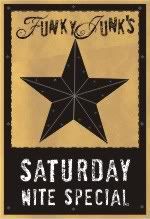 Potpourri Friday at 2805